Ohana Source Partner
As a family we traveled to Maui many times prior to the launch of Ohana Estate Coffee. Little did we know that our love for the Island's culture, beauty and ʻĀina (the land) would lead us to meet Ka'anapali Coffee farms. In 2017 we toured and discussed our partnership and as they say the rest is history!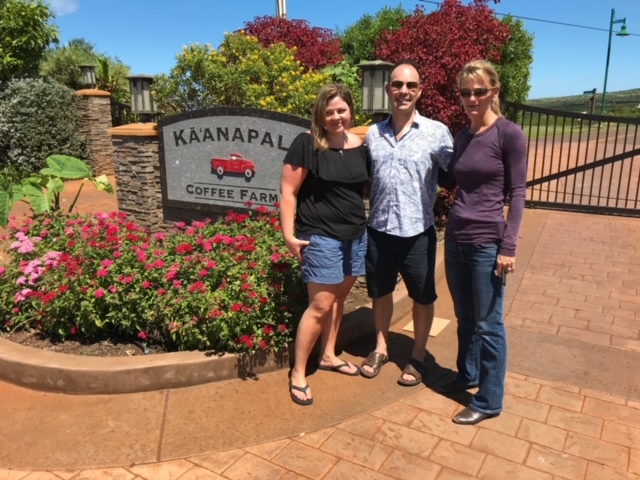 *Ryan & Janna with Ci-Ci of Ka'anapali Coffee Farms
About Ka'anapali Coffee Farms
Ka'anapali Coffee Farms occupies a piece of what was once a vast sugar cane plantation run by Pioneer Mill Company of Lahaina and Ka'anapali. Now smaller farms line the slopes in a lovely emerald patchwork. Just 4 miles downhill, the storied Ka'anapali Beach Resort hosts pleasure-seekers from around the globe.
Ka'anapali Coffee Farms is a private agricultural community that weaves contemporary island living into the rich farming culture of West Maui.
The First Maui Coffee
When Pioneer Mill diversified its sugar crop in 1988, it began field trials to test many coffee varieties under West Maui growing conditions. Four produced superior results: Red Catuai, Yellow Caturra, Typica and Mokka. The first recognized Maui coffee farm was born.
Today, there are hundreds of acres of mature trees in Kā'anapali. Saplings were grown in an on-site nursery from Kā'anapali coffee seeds, and planted in hedgerows with sudax, a tall grass that acts as a temporary windbreak until the trees are full-size.
To discover more information click on the logo-link below.